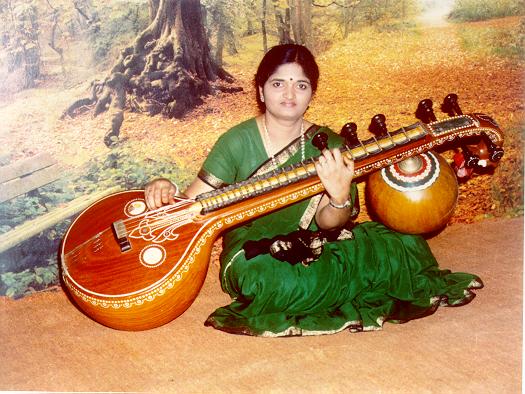 ---
Smt. Rajeswari Pariti is a professional musician and an "A grade artist" of All India Radio (AIR), Hyderabad. Smt. Pariti has a Masters degree and a Diploma in Veena and has been performing for over 40 years. She worked as a Veena lecturer at Telugu University, Hyderabad; and trained students studying for their M.A. and B.A. degrees in Veena. She has given numerous performances in India as well as in the USA.
Mrs. Pariti learned Veena from her father, Vainika Ratna late Sri Ayyagaari Someswara Rao in Vijayanagara sampradayam. She gave her first concert at the tender age of eight. Her "raagam-taanam-pallavi" and her lilting music in "mano dharma padhdhati" are rare treats to the listeners' ears.
Mrs. Pariti has performed extensively for AIR-invited audiences in Andhra Pradesh, Tamilnadu and Karnataka states and recorded concerts for south-hookup programs in India. She gave several Veena performances and lecture-demonstrations in USA including in Cleveland Tyagaraja Aradhanotsavam, Chicago Tyagaraja Utsavam , SAPNA , CMANA (Atlanta), SIFA (California), ICMS (Chicago), etc. with wonderful reviews. Her renditions were aired many-a-time on AIR and Doordarshan of India as well as on TV stations in the USA. Her concerts in several cities in USA were very well received.
Mrs. Pariti is listed in the Illinois Arts Council Roster of artists and has received several grants from the organization. She has been invited to perform as part of the Great Performers of Illinois Festival on September 9, 2006.
Her CD is available on amazon.com and in Apple iTunes store.